Dozens of women have vanished in and around the Yakama reservation. Sometimes, they just disappear. Sometimes, they're found dead months or years later. Rarely is anyone held to account.
Click on the link below to visit the Yakima Herald Republics The Vanished Project Page.
Decenas de mujeres han desaparecido en la reserva de Yakama y sus alrededores. A veces, simplemente desaparecen. A veces, los encuentran muertos meses o años después, rara vez se pide cuentas a nadie.
Haga clic en el enlace de abajo para visitar la página del Proyecto Desaparecido de Yakima Herald Republics.
Mapa de décadas de desaparecidos y asesinados en la Reserva Yakama: The Vanished: Mapping decades of missing and murdered on Yakama Reservation | Thevanished | yakimaherald.com
Crímenes violentos en la Reservación Yakama no puede cuantificarse con precisión
PHIL FEROLITO Yakima Herald-Republic
Dec 29, 2021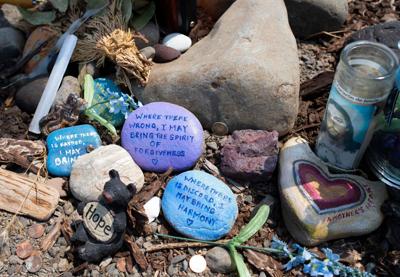 Una ola de crímenes violentos en la Reservación Yakama, en la zona rural del centro-sur de Washington, tiene a las autoridades trabajando al máximo en la investigación de asesinatos.
Pero no es fácil evaluar con precisión el número de delitos violentos cometidos en la reservación, incluidos los homicidios.
Las autoridades tribales y el FBI con frecuencia se reservan la información sobre investigaciones y las estadísticas federales sobre la delincuencia no siempre son precisas.
También existe una barrera de comunicación entre la policía tribal y otras agencias policiales que patrullan la reservación de 1.3 millones de acres.
El departamento de la Policía Tribal Yakama no comparte sus frecuencias de radio con las agencias policiales vecinas, un obstáculo que el alguacil del condado Yakima, Bob Udell, dice que está tratando de eliminar.
"Protegen su información y lo entiendo", dijo Udell.
Para complicar las cosas, existe un historial de dificultades que han padecido los Yakamas, a quienes se les prometió el uso exclusivo de la reservación después de ceder más de 11 millones de acres de su territorio original al gobierno federal en un tratado de 1855.
Esa promesa fue incumplida y muchos colonos blancos pudieron adquirir tierras tribales. El resultado fue una mezcla de tierras tribales y no tribales en la reservación.
En la actualidad, los Yakamas son superados por forasteros en una proporción de tres a uno en su propia reservación.
Sin embargo, la tribu de casi 11 mil miembros sigue luchando por autogobernarse y en 2016 recuperó gran parte de la autoridad civil y penal sobre los nativos americanos de la reservación en una medida legal denominada: retrocesión.
Estadísticas
No se sabe con exactitud cuántas investigaciones de homicidios se llevan a cabo en la reservación, ni el número exacto de homicidios.
En los últimos cinco años, el periódico Yakima Herald-Republic ha hecho un seguimiento de 41 asesinatos en la Reservación Yakama.
Sin embargo, la violencia no se limita a la reservación.
Los nativos americanos y los nativos de Alaska tienen 2.5 veces más probabilidades de sufrir delitos violentos y al menos dos veces más probabilidades de padecer violaciones o agresiones sexuales en comparación con otras razas, de acuerdo con la Asociación de Asuntos de Indígenas Americanos.
Pero no hay forma de cuantificar el grado de delitos violentos en las tierras tribales. Un reporte de 2017 de la Oficina del Inspector General en el que se criticaba al Departamento de Justicia por no hacer lo suficiente en territorios indígenas, arrojó que los datos más recientes sobre delincuencia que podían encontrarse datan de 2002.
"Para los indígenas americanos y otras personas que viven en tierras tribales, conocidas bajo la ley como País Indígena, los escasos recursos de las agencias policiales y el aislamiento geográfico aumentan los desafíos que enfrentan las comunidades tribales para abordar el crimen", se dijo en el reporte.
El FBI publica reportes anuales sobre la delincuencia en su Explorador de Datos sobre la Delincuencia en línea, pero las estadísticas relativas a la Reservación Yakama no reflejan lo que está ocurriendo.
Por ejemplo, el reporte anual de crimen mostró un homicidio en la reservación en 2019, pero el Yakima Herald-Republic rastreó 10.
El reporte anual de criminalidad del año pasado mostró tres homicidios en la reservación, cuando el Yakima Herald-Republic reportó 12.
El agente del FBI Peter Orth dijo que su organización no es una agencia de estadísticas. Más bien, depende de otras agencias de procuración de justicia para reportar sus estadísticas criminales contenidas en el reporte anual.
Sin embargo, el FBI dirigió la mayoría de esas investigaciones de asesinatos.
El Departamento de Justicia de Estados Unidos tiene normas estrictas sobre la divulgación de información de las investigaciones en curso, dijo Orth. Al citar esas normas, Orth no quiso revelar el número de homicidios ni las investigaciones en curso en la reservación.
"Estoy siendo un poco reservado porque debemos ser sensibles sobre nuestros recursos aquí y cuántos casos estamos abriendo, entre otros", dijo. "Así es el FBI. No podemos hacer más. Sé que quieren esos detalles".
Barrera de comunicación
Un agente del alguacil puede atender una llamada en la reservación sin que la policía tribal esté enterada de ello y viceversa.
Ambas agencias usan el mismo programa de radio, pero la Nación Yakama no comparte sus frecuencias.
Udell dijo que la central del 911 suele enviar a ambos organismos las llamadas en las zonas rurales de la reservación, como White Swan o Harrah, pero no siempre ocurre así.
Si un despachador piensa que es una llamada de una zona tribal, es probable que los agentes no la escuchen, dijo.
"Puede que no salga al aire", dijo Udell. "Si los agentes son llamados a Harrah, los oficiales de la tribu no saben a dónde van esos agentes. Lo mismo ocurre con la tribu. Les dicen a sus oficiales en su estación, 'No lo divulguen'. No lo sabemos".
Pero Udell mencionó que rara vez eso ocurre.
"Es solo ocasional cuando una llamada se dirige solo a una de las dos agencias", comentó. "Un diseño perfecto sería un centro de despacho combinado y un sistema de radio compartido".
Udell agregó que tiene planeado acercarse a la tribu para compartir las frecuencias de radio en las llamadas, mientras permita que la tribu tenga el control sobre la información personal de sus miembros.
"Respeto a la tribu y quiero que me digan si es viable para ellos", dijo. "No quiero forzarlos, pues eso no funcionará".
Programa especial desaparecidas "Tammy Ayer".
Nativa de Puyallup desaparece desde 1999 y se agrega a la lista de la patrulla estatal de Washington.
Funcionaria de departamento de justicia de E.U. Escuchara sobre crisis de mujeres desaparecidas y asesinadas en nación Yakama.
Esqueleto y cráneo coinciden, pudiera ser Parker Doe.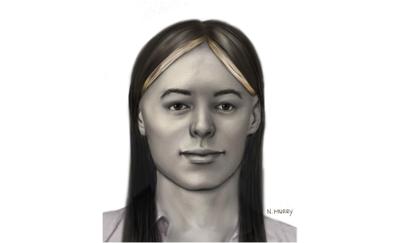 Nation Yakama será sede de reunión de grupo de trabajo estatal sobre desaparecidas.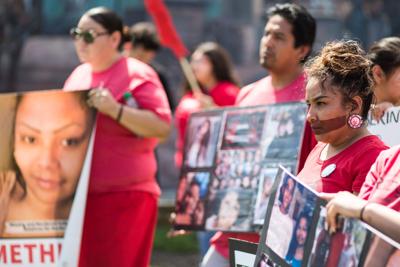 ¡Anuncian ayuda económica para familias de desaparecidas y asesinadas!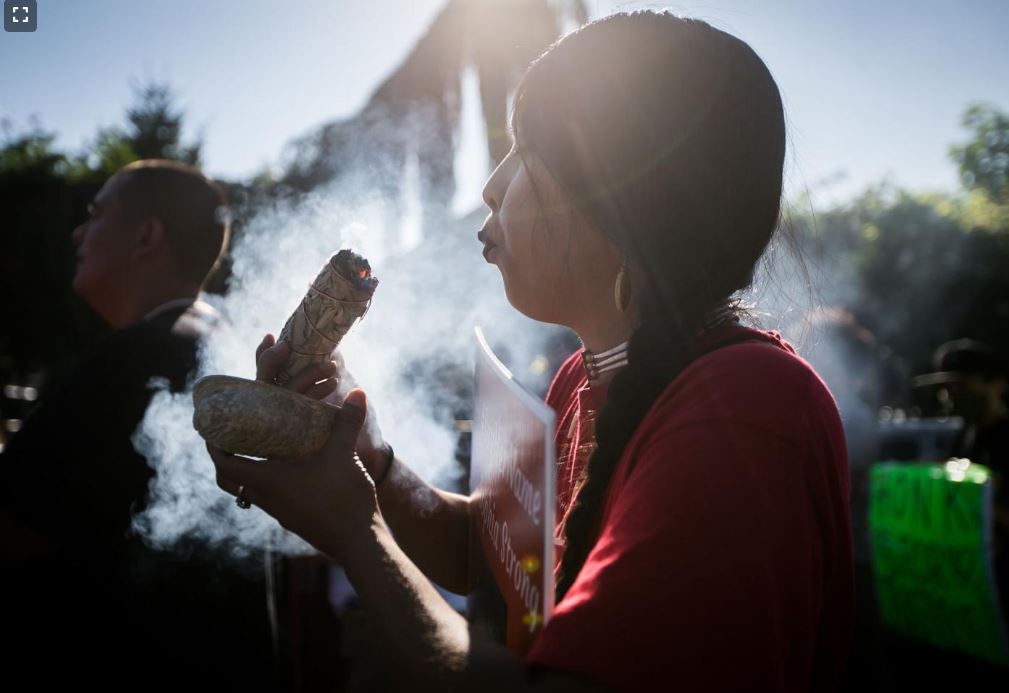 Con análisis a cientos de restos humanos buscan identificar a mujer nativa Helen Doe.
Con retrato hablado digital buscan identificar a mujer localizada muerta en 1988.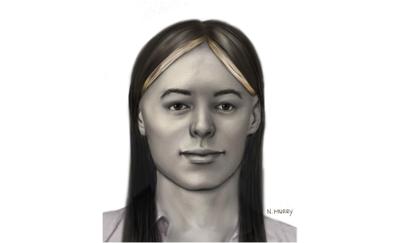 ¡Ciclistas apoyan crisis de mujeres indígenas y asesinadas!
Marchan en Wapato por justicia en casos de desaparecidas.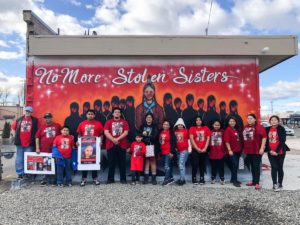 Marcha en Wapato July, 14, 2021 "SOPHIA"
Programa especial "DESAPARECIDA" Tammy.
Procuraduría estatal crea grupo, para averiguar las causas sobre desapariciones y homicidios de mujeres indígenas.
Nota reunion en Toppenish "DIA CONCIENTIZACION"